Understanding Diabetes and the Eye
Approximately 11 percent of the U.S. population between 20 and 79 years old has diabetes. At Eye Doctors of Arizona it is our duty to educate our patients about the risks of visual loss from diabetes. The most common vision threatening condition is diabetic retinopathy, but other eye diseases can be associated with diabetes as well. Regular examinations can catch these conditions before they progress.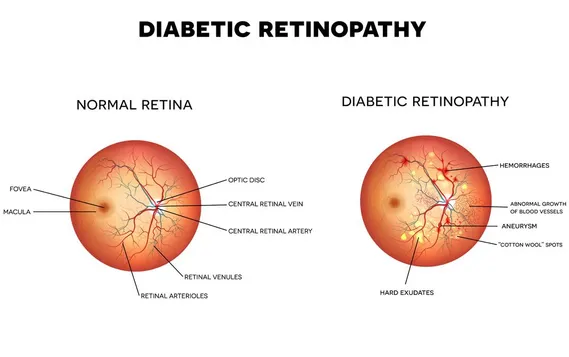 Diabetic Retinopathy
When diabetics have uncontrolled blood sugar levels, this can damage the walls of the blood vessels leading to bleeding inside the eye. Initially this happens on a microscopic level and may not affect vision initially. In the later stages of the condition, new blood vessels grow but these blood vessels and can cause severe damage leading to rapid visual loss.
If your diabetes is uncontrolled there is a much higher chance you could have diabetic retinopathy. Symptoms associated with worsening diabetic eye disease are:
Blurry or distorted vision
Fluctuating or double vision
Spots or floaters
Shadows
Pain or pressure
Although any or all of these may be associated with diabetic retinopathy, they can also be caused by other conditions. A trained ophthalmologist or optometrist can diagnose the underlying cause and recommend appropriate treatment.
Treating Diabetic Eye Disease
Diabetic eye disease is usually not specifically treated in the early stages. Treatment typically includes measures that help to control your diabetes and high blood pressure if blood pressure is also elevated.
In more severe stages of diabetic eye disease treatment may consist of injection of medicine into one or both eyes in order to prevent additional blood vessel growth or bleeding. Laser in also used in conjunction with injections in certain instances. In extreme cases, a surgical procedure called a vitrectomy may be done to remove the gel-like vitreous humor from the eye if it becomes opaque with blood.
Treat Your Vision Right with Eye Doctors of Arizona, Your Ophthalmologist or Optometrist in Phoenix, AZ
Eye Doctors of Arizona are your eye care specialists in Phoenix, AZ. At Eye Doctors of Arizona we take pride in performing thorough screening, evaluation, and consultation for diabetic eye disease. Call (602) 257-8280 to schedule your next eye exam today.