Services from Your Trusted Phoenix Ophthalmologists
Here at the offices of Eye Doctors of Arizona, our team of experienced Phoenix ophthalmologists is here to provide the highest level of ocular care to you and your entire family. Whether you need a routine exam or something a little more extensive, such as treatment for an ocular disease, our experienced and skilled team of Phoenix eye doctors is here to help. We provide a wide array of eye care services to suit your needs.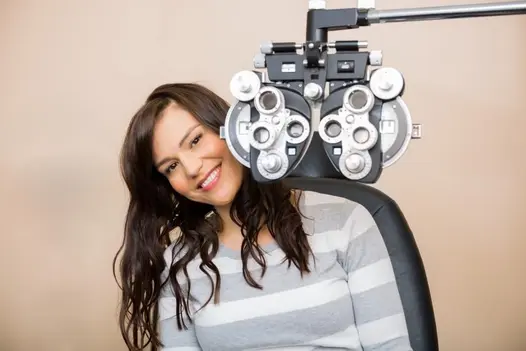 Routine Eye Health Exams
Have you had an eye exam this year? If not, then we recommend scheduling an appointment for your annual exam. Annual eye exams are important to make sure your eyes are in good overall health. During an eye exam, we can perform testing to rule out any potential ocular diseases; if problems are found, we can diagnose them early and increase chances of successful treatment.
Glasses Exams
We fit all kinds of glasses. Types of glasses fitted include those to see distance, near, bifocals, computer glasses, and prisms. We have a full service optical at every location and we carry a wide selection of eyeglass frames for adults and children. Our opticians can help you select a new style as well that looks great, fits and functions well.
Cataract Surgery
We perform cataract surgery with the most modern techniques including laser cataract surgery and placement of multifocal or presbyopia correcting intraocular lenses. At Eye Doctors of Arizona we perform over 1,500 cataract surgeries yearly. It's the most common surgical procedure we do.
Glaucoma Evaluation and Treatment
In each of our offices we have the latest in diagnostic modalities for glaucoma as well as treatments for glaucoma of all severities. At Eye Doctors of Arizona we also perform the latest surgical techniques in glaucoma. MIGS or Minimally Invasive Glaucoma Surgery may reduce or eliminate your need for drops to lower your eye pressure.
Diabetic Eye Care
Diabetes affects multiple body systems, including the eyes. Without the proper exams and treatment, vision deterioration and even blindness can result. We offer special diabetes-focused eye exams for those living with this disease. During these exams, we check carefully for signs of diabetic retinopathy. We also pay extra attention to screening for glaucoma and cataracts since diabetes raises the risk of these conditions. Diabetic exams should be done every year.
Hypertensive Eye Exams
Hypertensive exams can be effective in preventing damage to the eyes from high blood pressure; we can perform this exam quickly in office and provide you with quick and accurate results.
Dry Eye Treatment
As the name implies, dry eye disease occurs when the eyes don't produce enough tears for sufficient lubrication of the eyeball. This causes bothersome irritation that often feels like you have sand in your eyes. Over time, the irritation can become quite painful and even cause damage to your eyes. We are skilled at evaluation and treatment of dry eye of all severities.
Laser Vision Correction with LASIK and PRK
Thinking about having LASIK done? We can conduct a free evaluation to determine whether or not you're a candidate for Laser vision correction.
Blepharoplasty, Eyelid lifts
Are your eyelids blocking your vision and interfering with your ability to drive, read, or watch TV? You may qualify for a functional blepharoplasty to remove the excess skin of your upper eyelids to help you see better. Not only do our surgeons aim for a great functional result, we strive for a great cosmetic result as well.
Keratoconus Exams
Keratoconus is a progressive form of astigmatism that occurs in 1/2000 people. We can perform the testing to diagnose this eye condition by evaluating the shape of your cornea with the latest diagnostic equipment including anterior and posterior corneal mapping.
Color Vision Testing
Many careers require color testing for certification and other authorizations; here in our office, we can test for color-related eye conditions, such as color-blindness, and provide a report to a potential employer if needed.
Prescriptions for Hard to Fit Contact Lenses
Many people can use standard soft contact lenses, but those with certain eye conditions find that these lenses don't work. This is because conditions like irregular astigmatism or keratoconus have corena shapes that do not fall within the normal spectrum of corneal curvatures. If you've had trouble wearing contacts due to these or other conditions, we can fit either rigid gas permeable contact lenses or larger hard contact lenses called scleral lenses that will work with your unique eye shape.
Call Today To Schedule an Appointment with an Ophthalmologist in Phoenix
No matter what eye care services you need, the offices of Eye Doctors of Arizona are here to help. Call us at (602) 257-8280 to schedule your appointment today.