Are your eyelids drooping and interfering with your ability to see? Do you have to lift your eyelids with your fingers in order to see better? You may be a candidate for a functional blepharoplasty, commonly known as an upper eyelid lift. At Eye Doctors of Arizona, we are experienced in both cosmetic and functional blepharoplasty surgery.
If your eyelids are heavy, drooping, and interfering with your ability to perform activities of daily living such as driving, reading, or watching TV, you may be candidate for an upper eyelid lift. The procedure, medically referred to as a blepharoplasty is a simple outpatient surgery that entails surgical removal of excess skin that weighs down the eyelids. If the excess eyelid skin blocks your vision your insurance may cover the cost of the procedure. There are specific criteria your insurance uses to evaluate whether or not your surgery will be covered as a medically necessary procedure. Each insurance has different criteria. Typically, the evaluation requires photos of your eyelids and a visual field test to evaluate how much your vision is limited by the eyelids. These tests are then submitted to your insurance for review and if approved you may then be scheduled for surgery.
When a blepharoplasty is performed to help a person see better, frequently those undergoing surgery enjoy a cosmetic benefit as well. There are a few things to keep in mind when undergoing an eyelid lift. No one is perfectly symmetrical before surgery, and the goal is always to balance the symmetry as much as possible during the surgical approach. If the above considerations sound good to you, a consultation with your Ophthalmologist at Eye Doctors of Arizona is the next step.
Do you take blood thinners such as warfarin, Eliquis, plavix, aspirin or other medicines that may result in prolonged bleeding times? It is important you let your surgeon know and discuss your overall health when considering eyelid surgery. Typically, in consultation with your cardiologist or primary care physician these medications are temporarily halted in order to minimize bleeding during surgery. They can then be resumed safely the next day.
In preparation for surgery you may not have anything to eat or drink after midnight the night before. You will arrive to our outpatient surgery center and expect to be there about 2-3 hours. Patients typically receive IV sedation with local anesthesia to the eyelids. Although some patients sleep through the procedure it is not general anesthesia.
The procedure typically last 30 minutes and consists of removal of excess eyelid skin and fat of the upper eyelids and closure of the incision with a surgical suture or stitch.
Once the procedure is completed you will be given post-operative instructions and discharged from the center. Instructions consist of the use of ice packs and rest with the head elevated for rest of the day. You may shower the next day, and generally go about your life with only a few restrictions. These restrictions include no swimming pool or jacuzzi for one week and no heavy lifting more than thirty pounds for one week.
You will be seen in the office one week after surgery and have your stitches removed at that time.
Before
After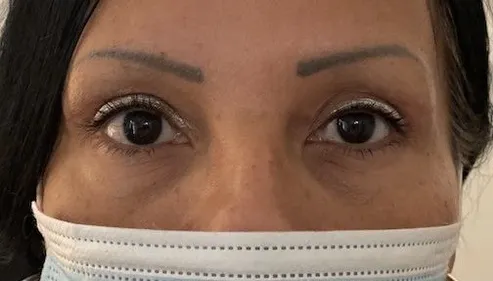 Before
After
Before
After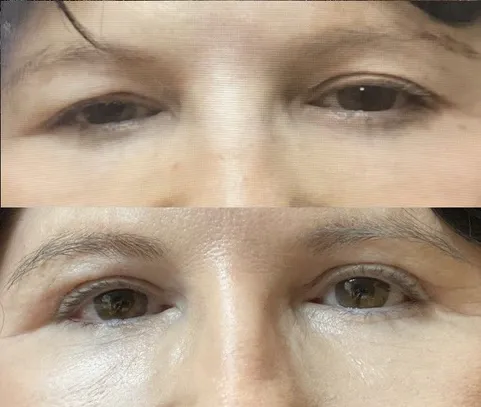 Before Xanthelasma Excision
After Xanthelasma Excision